Whether you're dropping in for the first time or you're a regular member of our snack fam returning for more, we're here to satisfy all your bougie snack cravings.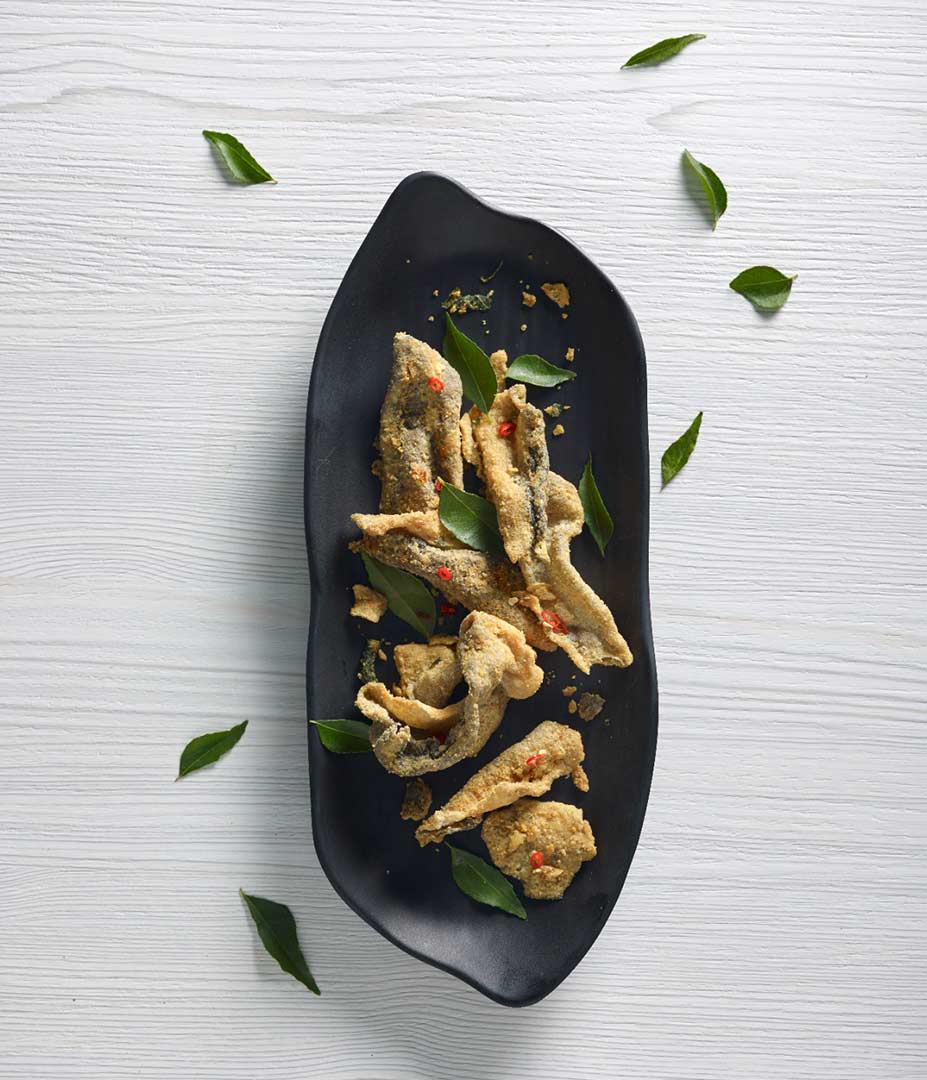 SALTED EGG YOLK FISH SKIN CRISPS
A unique carrier like fish skin? With the intense flavours
of Salted Egg Yolk? Our success lies in achieving balance.

Every element intentionally curated, measured and added in just the right amounts to achieve the perfect layering of tastes.

The result? —
Pleasure from crunch to finish.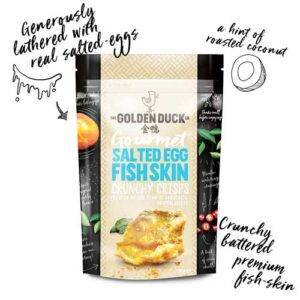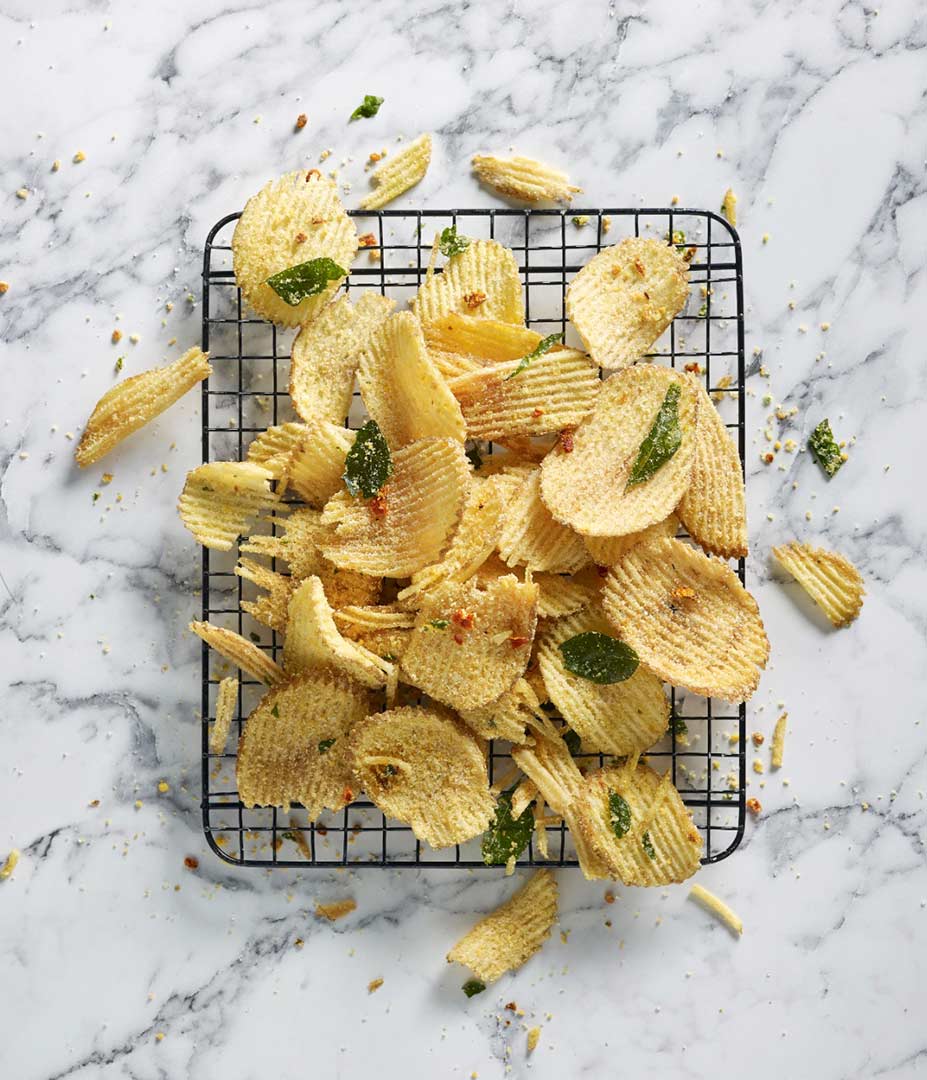 SALTED EGG YOLK POTATO RIDGES
Make it yours.
Oh where do we begin with our salted-egg yolk potato ridges? Ah, with the ridges of course — the rise and fall of each groove making little valleys for our gourmet salted-egg yolk mix to nestle and hide, loading each chip with 100x more flavour (a yummy anecdotal) than regular Joe potato chips.
Pour them out; relish the initial aroma of creamy salted-eggs and fragrant curry leaves; take pictures of your beautiful mess, and fall in love with your new favourite snack. Repeat.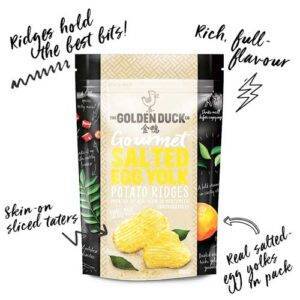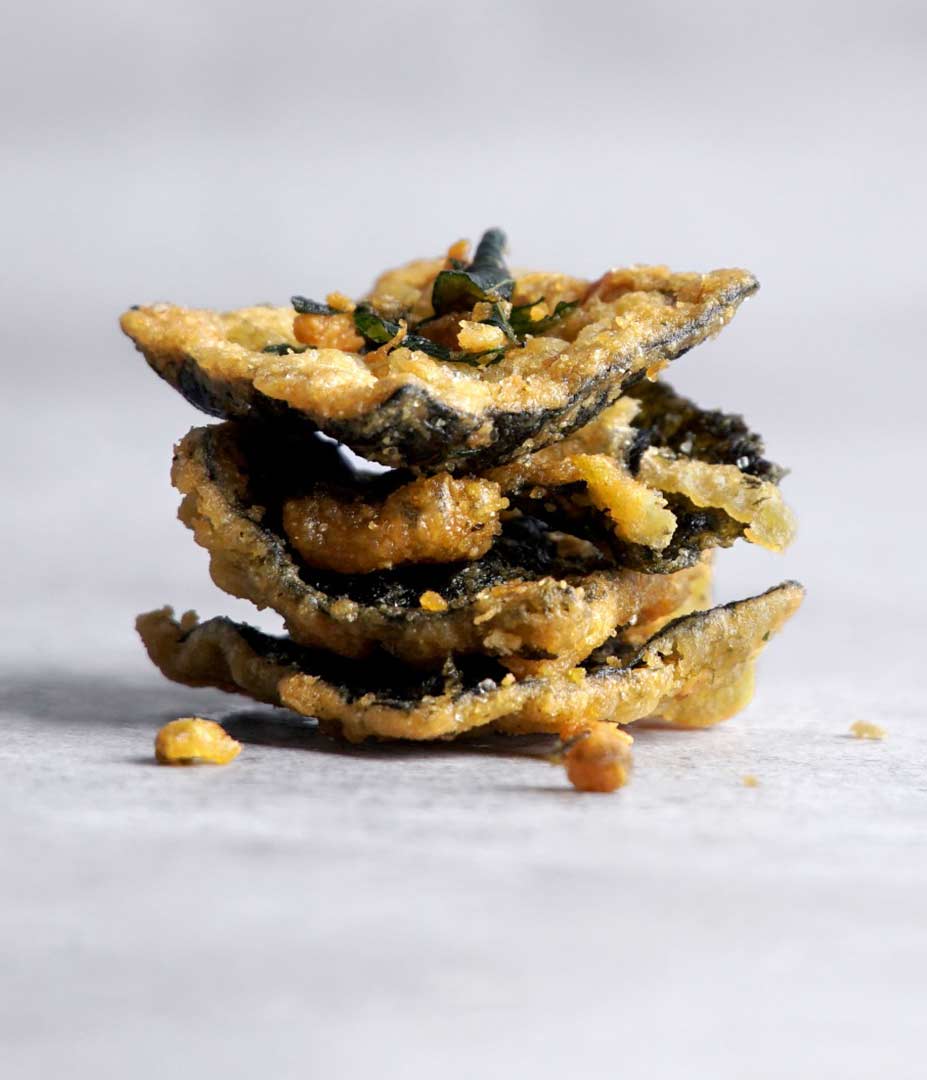 SALTED EGG CRAB SEAWEED TEMPURA
It was a reckless feat, we have to admit — trying to create a snack using such complex ingredients and components.
The sweetness of real crab meat; the bold umami of salted-eggs; the fragrant spice of chili and curry leaves, all brought together on tempura-coated squares of seaweed — oh boy, what could go wrong?
Thankfully nothing.
Taste wave after wave of umami magic in is perfectly
balanced snack-hit.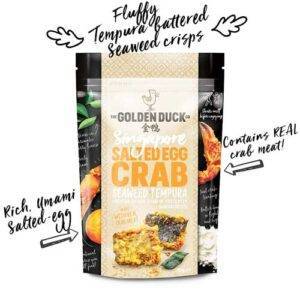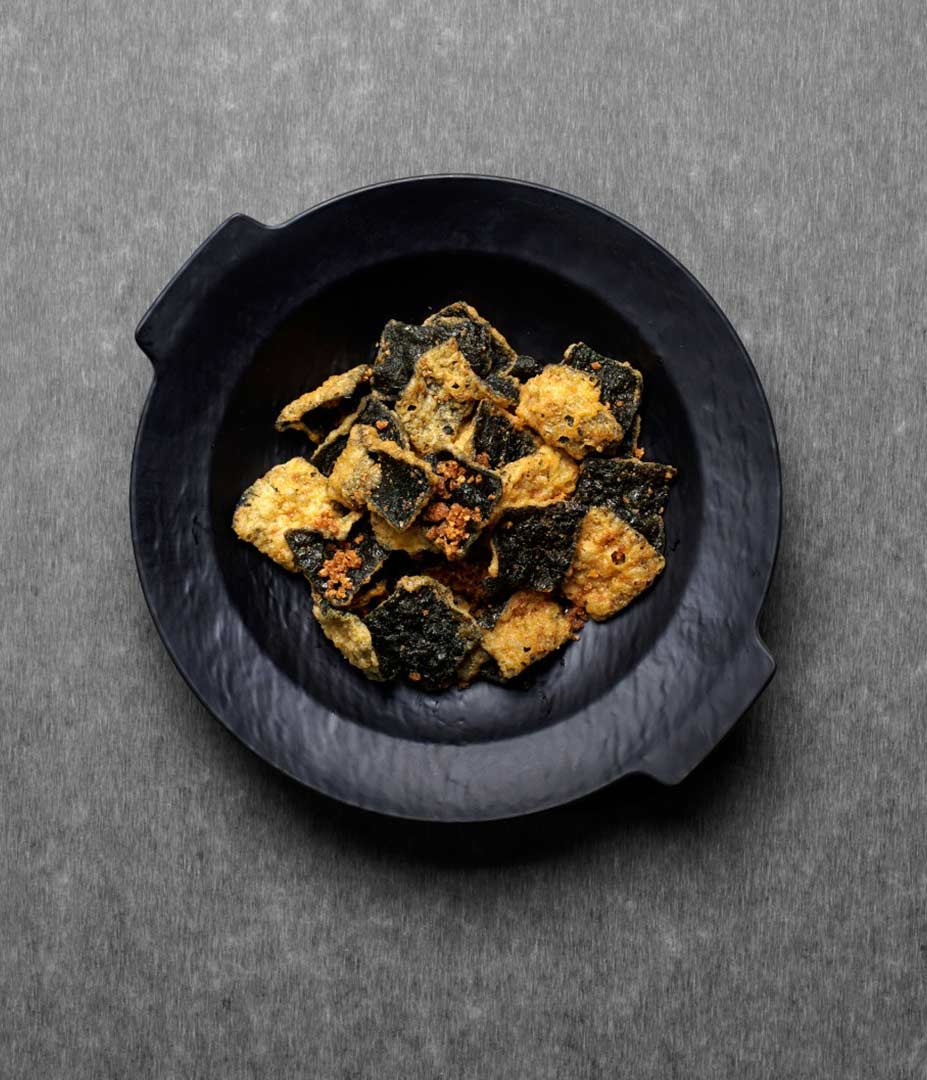 CHILLI CRAB SEAWEED TEMPURA
Singapore's Iconic
National Dish
A "must have" for visitors transiting through Singapore, and also for locals celebrating a special occasion, Singapore's Chili Crab is as good as it gets when it comes to encapsulating a taste of the sunny island nation — tangy, salty, mildly spicy, and creamy, with many beautiful layers of flavour forming this unbelievably complex dish.

We've packaged all of that into a snack, befitting of this national treasure. And yes, of course it contains real crab meat.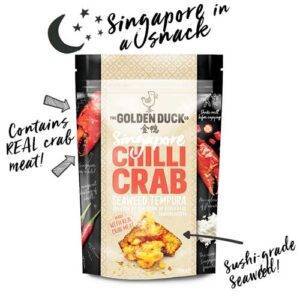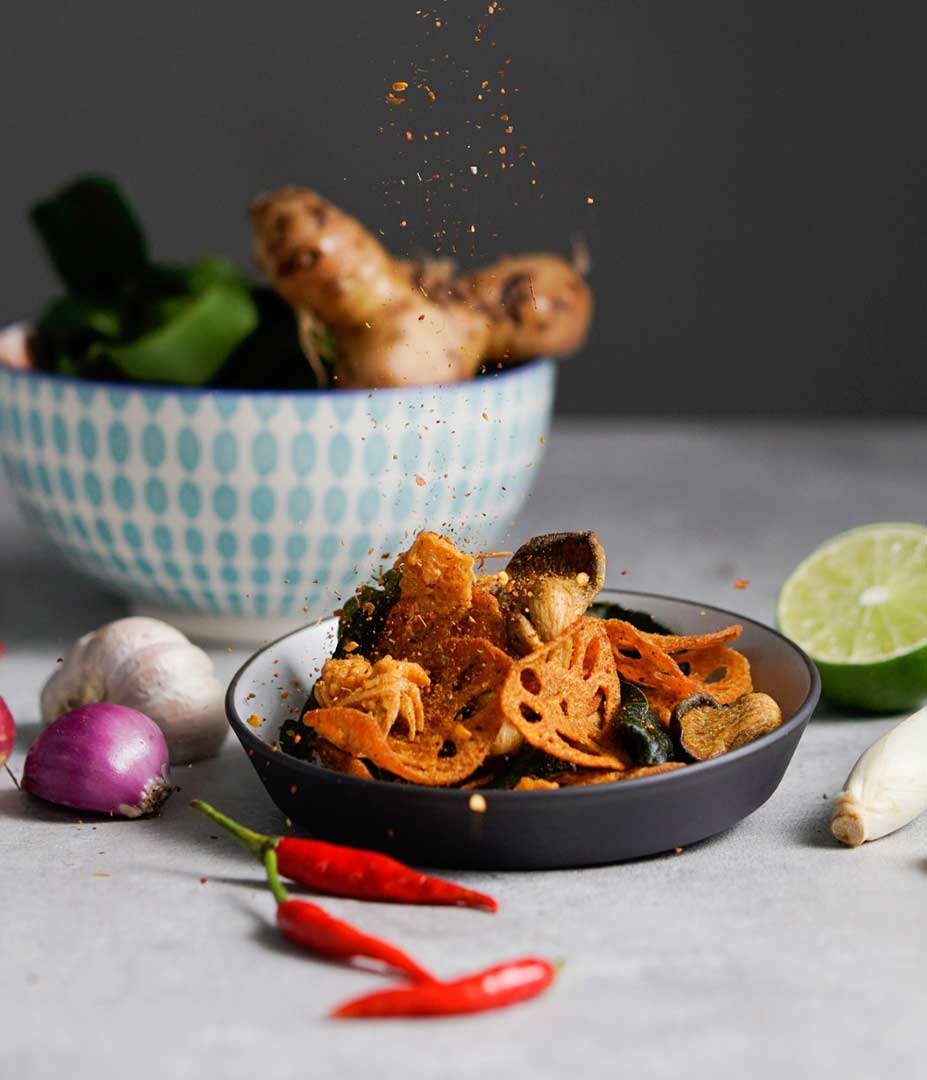 Asia's Best
Tom Yum Snack
A bold claim. But there's so much to be said about what went into the creation of this gourmet snack.
Alongside our signature TGD snack standards, we also teamed up with Blue Elephant Royal Thai Cuisine in Bangkok to create this gem. Two renowned chefs worked with three ingredients (lotus root, shrimp chins, and oyster mushrooms) to create a Tom Yum snack that captures all that Bangkok and Singapore has to offer, in one pack.
Take the land of smiles,
wherever you go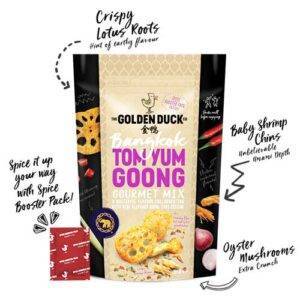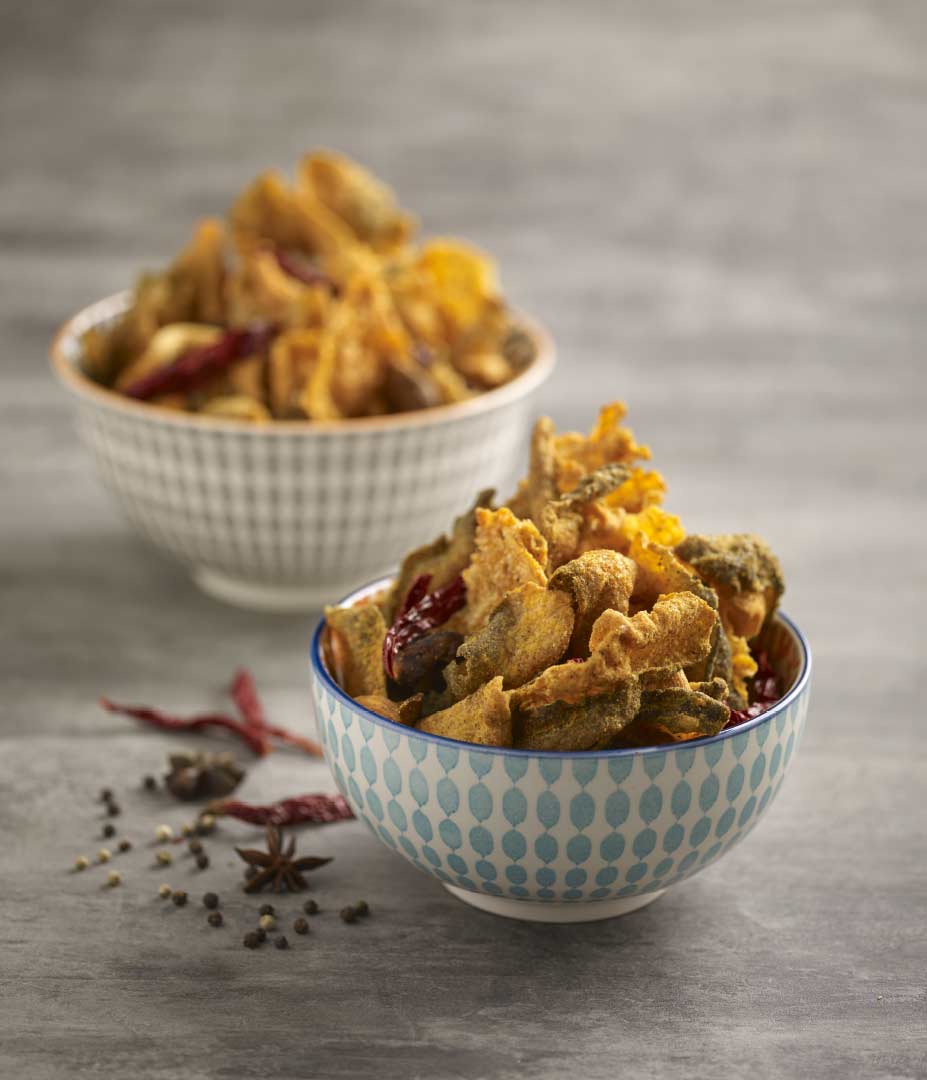 The Mind-Numbing
Medley From Sichuan
Taking inspiration from the heatwave of Mala 麻辣 frenzy that flowed from Sichuan down through Southeast Asia, we wanted to create a snack that would challenge how Mala 麻辣 snacks were perceived.
Picking common ingredients found in Mala 麻辣 hotpots, and 'xiang-guo's (literally translated : 'fragrant wok'), we curated an ensemble involving our signature fish skin crisps, fluffy tofu (or beancurd) skin, and three types of mushrooms — shiitake, oyster and shimeji. Mmm..
Settle for less? nah.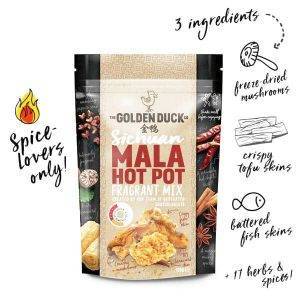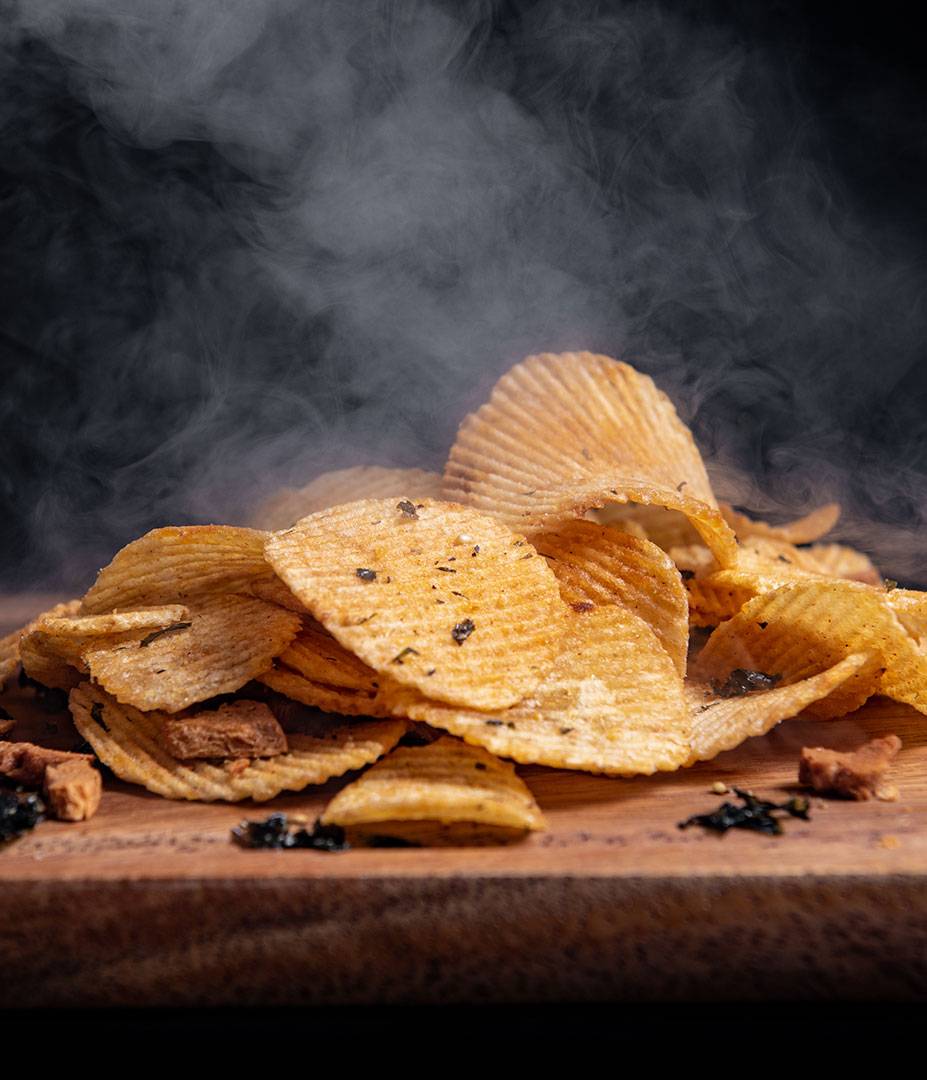 BBQ Flavoured
Potato Ridges
These chips from The Golden Duck capture
the essence of a Korean BBQ experience
– with a whole bunch of cheese on top.
Enjoy crunchy potato ridges with a cheesy, smoky, umami BBQ flavour.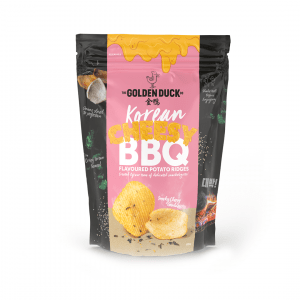 Need a pick-me-up?
Spread some cheer with CHIRRUP! – a colourful range of happy snack packs that's bound to surprise and delight!
Chirrup comes in three sprightly-yet-comforting flavours : Salted Egg Yolk, Lobster Lemon Butter, and Wild Truffle Herb – on fluffy hand-cooked potato ridges topped with a confetti of herbs and spices. Mmm…

"At convenience stores in Singapore, we grab for Golden Duck's fish-skin crisps, made from dory"
"Their latest product, Sichuan Mala Hot Pot Fragrant Mix, proves that there's no holding them back."
"Demand for their first chips was so high that
they imposed a daily limit of five bags per customer."
View Our Full
Golden Duck Collection